Good morning
everyone and...
Happy Wednesday
to ya!
You better believe I got me one of these this morning :)
Now, in keeping with tradition...
Today is the day I get to share with you some of
my daily noms!
(Thanks to Jenn over at Peas and Crayons!)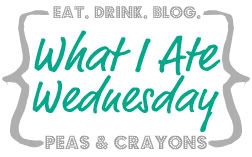 As I do enjoy variations in the food I eat...
A lot of it does
go into repea
t
as it FITS into
what my body calls for
in terms of...
The FUel it requires!
That FUel being the type that goes hand in hand with...
The program I follow to
be healthy
and to
build me some muscle!
(I like to keep my meals healthy, clean and tasty...always! But don't get me wrong, I do intertwine some goodies here and there too!)
So enough talking...
Let's get to the goods
shall we?!
Here's a
peek
into some of my daily eats!
Veggies:)
You know I need me one of these!
I may add another in the afternoon too!
Stirring it up with a Chicken and Veggie Stir-Fry!
Want the recipe
for the chicken stir-fry?
Easy Chicken Stir Fry
1 Chicken Breast (diced)
1 cup Sugar Snap Peas
1 tbsp minced Ginger
MTL Steak Spice (to taste)
Hot Sauce (if so desired)
Diced your Chicken Breast into small cubes

Spray you fry pan with a touch of Olive Oil and heat your element to medium/high

Throw in your Ginger and Sugar Snap Peas

Cook for about 4 minutes

Add your Chicken and sprinkle on some MTL Steak Spice

Once your Chicken is cooked (and slightly browned) remove from heat and enjoy!

Serve it on top a bed of rice or noodles!
***
In keeping with the theme of food...
Remember...
This coming Friday
is
#RECIPEFRIDAY
on the blog!
If you recall, last week...
I shared with you
the recipe for my Sweet Potato Protein Brownies and Bites
:
And this coming Friday...
I have something FUn and delicious to
introduce you to!
(Something that I've been eating and lovin'!)
Of course...
A recipe
will be included! (Don't you worry!)
Until then...
Do you want to sneak peek at this
ultra-low carb
dish?
Here's a
little taste!
Now don't forget...
Every
#RECIPEFRIDAY
you get to
link up
to your favourite recipe of the week too! (One you've posted within the past 7 days or one that is brand spanking new and you just can't wait to share with everyone!)
So...
Be sure to
link up
to yours this coming #RECIPEFRIDAY!
(And, if you don't have a blog, feel free to to upload a picture to my facebook page with the recipe included...or, send me a pic and the recipe and I'll pin it to my #RECIPEFRIDAY Pinterest Board!)
Hope you join in on the
Food FUn!
Have a tasty day my friends!
Questions FU You...
What did you have for breakfast?
Do you have a recipe lined up for #RECIPEFRIDAY?
Stay Tuned FU More On
*CaNdY FiT*
Tweet