Good morning everyone and...
Happy What I Ate Wednesday!
Teddy is excited too!
Thanks to Jenn over at Peas and Crayons...
Today I get to share with you some of
my daily eats!
(I mean how exciting is that...really?! lol)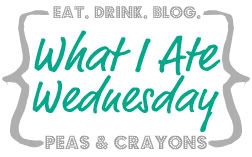 So without FUrther ado...
Here's a glimpse into
what I've been eating
as of late:
Hot water with Lemon.
Chicken and Grilled Veggies.
Greek Yogurt and Orange Slices.
5 Spice Chicken Tofu Shirataki Noodle Bowl
Recipe coming soon.
I've also been
enjoying this blend
to top my Chicken or Salmon with:
Oven Baked Dijon Mustard & Dill Chicken
Ingredients
3 T Maille Dijon Mustard

3 T Maille Dijon Mustard Grain

1 T Fresh Dill or Gourmet Garden Dill
Coat your Chicken with the Mustard and Dill blend

Place aside

In a baking pan, add 1/2 cup water

Put a rack on top of your baking pan and add your marinated chicken on top of it

Place your Chicken in the oven at 400F and broil until thoroughly cooked (about 30-40 minutes for me)

Remove from the oven, plate and enjoy!
Pretty simple ain't it?!
That's just
how I roll folks
;)
***
Now remember...
This coming Friday
is
#RECIPEFRIDAY
on the blog!
Last week...
I shared with you
the recipe for these
little bites of goodness
:
And this week...
I have something coming to ya that is
super tasty too!
Don't forget...
Every
#RECIPEFRIDAY
you get to
link up
to your favourite recipe of the week too so...
Be sure to
link up
to yours this coming #RECIPEFRIDAY!
(And, thanks to all those who did last week!)
Hope you join in on the
Food FUn!
Have a great day everyone!
Questions FU You...
Will you be joining #RECIPEFRIDAY this week?
Favourite breakfast eat?
Stay Tuned FU More On
*CaNdY FiT*
Tweet