Another Wednesday, another opportunity to show...
No not my Biceps!
lol
But...
My eats
through
Jenn's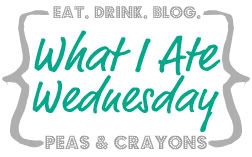 In this edition of WIAW...
I'll be sharing with you some of my

pre-competition noms!
Wanh Wanh...Sounds boring right?! Think again!
I mean...
Who said dieting

for a Fitness Competition

can't be FUn?!
If anything...
It gives me a

chance to get a little more creative

on the kitchen front!
So...
In following

my

program, which is specific to my body...
Here's a peak into some of

my meals!
**Not all 'diets' are the same. The plan I'm following is geared towards me,

my body and

my metabolism.

I should mention, I eat like this pretty well all year round with the exception of the carb cycling and a few treats intertwined :)**
Mmmm coffeeeee!
Oatmeal Protein Pancakes
Recipe
Egg Whites, Cinnamon, Pepper and a few Almonds to top.
Cucumbers to keep me crunching.
Me and my trustee Garlic Pro!
I've been on a huge Garlic kick lately and...
This gadget has made dicing a breeze!
I eat lots of salads.
Like, lots and lots of salads.
Good think I love salads.
How many times do you think I can say salads in one blog post?! ;)
Pan Seared Tuna with a Homemade Lemon Dressing
Recipe here and here
Salmon topped with a Dijon Mustard and Lemon Marinade.
Recipe
Same thing different day :)
Recipe
But what about

SuperFit

you ask?!




Well...




Here's a look into

what I've been making for him!



Wouldn't you know it...
A salad!
But it's not any salad...
It's his favourite salad!
Recipe
I made this for us :)
From now until competition day...
No more wraps will be included in my regimen.
All good with me because I seldom eat wraps to begin with.
Pesto Chicken Pasta with Broccoli and Mushrooms.
Recipe
Alrighty...
That's it that's all folks!
See...
Wasn't that
food FUn
to look at?! :)
Have a great day everyone!
Question FU You...
If you had to pick one of the eats I posted above, what would you have?
Stay Tuned FU More On
*CaNdY FiT*