This WIAW should actually be called...
What I ate before Monday!
Why? Because...
We are currently
testing out a new pre-competition diet
that would leave me with
no added flavour to play around with!
(Insert Violin music here lol)
So let's just say...
Things have been
plain
and
simple
over at my place for the past few days!
But hey...
You gotta do whatch'ya gotta do!
(It's the name of the game!)
Plus....
I'm excited to see the
results
(hoping there is some of course lol)
after this cycle has ended!
So without FUrther ado...
Here's a peek into what I've been eating
since
my last WIAW
!
(So you'll find here a combination of both old and new diet cycle goodies!)
Sliced Cucumbers.
Salmon and Brussel Sprouts
Recipes for this can be found here
More Egg Whites topped with Vanilla Stevia, Cinnamon, Salt, Pepper and Almonds.
(reused photo)
Dim Sum with the family!
Ha just kidding! I ate before going :)
Heart shaped Tuna Steak.
Stuffed Portobello Mushroom Caps.
Recipe can be found here
Dinner.
Recipe for Tuna Steak can be found here
~Recipe for Mahi Mahi!
(which is a new fish I recently tried!)
Salt
Pepper
Splash of Olive Oil
Lemon Wedge
Easy right?! Yep!
Instructions:
Pre-heat your oven to broil at 385F
Place your fish on an oven safe pan
Spray a touch of Olive Oil to coat the Mahi Mahi
Salt and pepper to your own liking
Put your fish in the oven
Cook for about 15 minutes (or until fish because flaky and toasted on top)
Remove from oven and top with Lemon wedge (feel free to squeeze the juices on top!)
Oh and one last thing...
This is what Teddy ate!
(At least he has good taste!)
Yes, I'm still wearing them!
Thank you
, once again
Jenn
, for giving us this
FUn way to share our eats!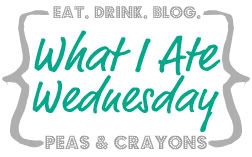 Questions FU You...
1. When starting a new program and or eating plan, do you find the first day to be the most difficult?
2. What are you looking forward to eating today?
Stay Tuned FU More On
*CaNdY FiT*