So far...
Our
staycation
has been
awesome!
Little M,

SuperFit

and I went hiking!
Even
the FUrry kids
have been
having a blast!
Not sure where Teddy is going lol
Wet Puppy!
And today...
Our FUn continues!
With what exactly?!
I'll be sure to fill you in
soon but for now, let's talk...
What I Ate Wednesday!
In my last WIAW...
I posted some pics of
the food I've been eating
as I prepare for my Fitness Competition!
This time...
I'll be doing the same but
sharing some new stuff!
(I've got 9 more weeks to go!)
Like I mentioned before...
Pre-Contest meals
don't have to be
bland and boring
, unless you make them so, so...
Here's a peek
into what I've been eating over the last little while!
(Get ready, there's lots of greeeeen stuff going on!)
Egg Whites.
Clean and Simple.
Favorite Childhood Cucumber Snack:
White Vinegar
Salt and Pepper to taste


Sliced Cucumbers fresh from our neighbours garden.
I did not steal it ;)
Oven Broiled Broccoli:
Oven Broiled Broccoli!
Recipe and instructions:
Set our oven to Broil at 400F.
Place your Broccoli on an oven safe pan and season with Salt and Pepper (to taste. I like it plain too).
Cook for about 15- 20 minutes.
Oven Broiled Brussels Sprouts:
Chicken salad with Brussels Sprouts.
Mmm. Mmm.
Mustard Grain Marinated Chicken over a bed of lettuce leaves.
And last but not least...
The recipes I promised to share
in
my last post
for this dinner:
Dijon Mustard Grain and Rosemary coated Salmon with
BBQ'd Stuffed Portobello Mushroom Caps and Veggies.
Recipe for
Salmon:
1 T Mustard Grain Dijon
1 T Dijon Mustard
Fresh Rosemary to top
Pepper to taste.
Instructions:
Oven Broil at 400F for about 15-20 minutes.
Recipe for
BBQ Veggies:
The one on the right.
Ingredients:
1 bunch of Diced Asparagus
Diced Orange and Yellow Peppers (2)
1 pack of sliced Mushrooms
1 sliced Zucchini
1/3 cup Balsamic Vinegar
2 T Dried Thyme
Pepper to taste
**I love Chat Masala on these veggies. If you have it, you could replace the Thyme with it**
Instructions:
In a large bowl, lightly spray all of the veggies with Olive Oil.
Mix in the remainder of the ingredients and coat evenly.
Turn your BBQ on high and transfer your veggies onto a BBQ safe pan.
Close the lid and let cook for about 7 minutes. Stir them around.
Continue doing this until cooked.
Approx. time 20 minutes.
Nikki's Stuffed Portobello Mushroom Caps:
Ingredients:
5 Large Portobello Mushroom Caps (stems removed)
1 1/2 T Fresh Coriander
5 halved Cherry Tomatoes
1/2 a diced Yellow Pepper
3 T
Allégro Cheese
(grated to top)
1 T Balsamic Vinegar
1 tsp. Dijon Mustard
Pepper to taste
Instructions:
In a mixing bowl, mix together the Balsamic Vinegar, Dijon Mustard and Pepper.
In a separate bowl, mix together your veggies and Coriander.
Place your mushrooms on a BBQ safe tray, lined with aluminium foil, and spoon in your veggies onto each.
Drizzle your Balsamic dressing over top each mushroom cap.
Add some grated cheese to all of them.
BBQ for about 15 minutes.
That's it for now!
Once again...
Thanks
Jenn
for giving us this
FUn way to showcase our eats!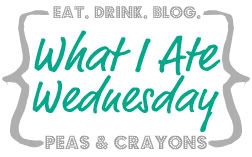 And just for the sake of puppy love...
I leave you with this:
Teddy is a happy puppy...
I know it! ;) lol
Questions FU You...
What's your favourite summer meal and/or treat?
Have you ever taken a staycation? What did you get up to?
Stay Tuned FU More On
*CaNdY FiT*