Over the past couple of months...
I've been taking a peek at this
What I Ate Wednesday
(WIAW)
Party, that honestly, just leaves my mouth watering every single time!
A party where healthy living Bloggers
share their daily/weekly eats
all over the internet, once a week, every Wednesday!
(I'm sure you figured that much lol!)
It's a big
celebration of
Food
and
FUn!
(I just had to join in seeing that I love both Food and FUn!)
I'm in!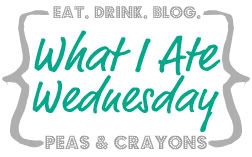 If you want learn more about WIAW...
You can read all about it here!

As you all know...

I already

photograph my meals

and

share my recipes

for anyone wishing to see and try out what it is I eat

(if you dare LOL)

, but...

WIAW

gives me a chance to compile some of those things I never got a chance to post during the week!

So are you ready for my first

WIAW

?
Good...
Cuz I"m FUelled up and ready to eat!
Here we go...
**I'll be posting Breakfast, Lunch and Dinner as I never remember to take pics of my snacks!**
Breakfast:
As of late...
I've been enjoying my
low-carb protein pancakes (crêpes)
or my
Oatmeal Protein Pancakes
!
If not that, then...
Yummy
Scrambled
Egg Whites with
Veggies!
(I get extra points for extra greens!)
Egg Whites, Spinach, Ground Flax Seeds, Chives, (sometimes Mushrooms)
and...
Hot Sauce!
Yummm!
Lunch...
I
love
Salads!
Yesterday...
I had a
Surf
and
Turf
Salad
with nothing but Wasabi and Ginger for some additional flavour!
(I love when the wasabi hotness goes right through your nose! Actually, I love it after I'm done getting teary eyed! lol)
Dinner (from this past weekend)...
Chicken, Lean Angus Beef Burgers, Oven Baked Chips and Broccoli!
Lightly spray
your pan with Olive Oil
Sprinkle

some of that Char Crust Goodness on your Broccoli and...
Place in the oven at 375F for about 20-25 minutes
(Depending on your oven power)
Next...
I swear by this spice blend.
It's soooo good!
Spray Olive Oil on an oven-safe baking pan and place your sliced potatoes on it.
Sprinkle some Char Crust (I used a different flavour),
Chili Powde

r

and
Place in the oven at 400F for about 35 minutes (flipping sides about half way through).
Putting it all together and serving...
Toppings.
His.
I sautéed some Mushroom in BBQ Sauce.
Cutie.
I had Chicken with the Burger Toppings :)
Soooooo.Good!
I debated licking my plate clean.
I should mention...
I wasn't the only one
who wanted to showcase what they ate this week....
And that concludes my first edition of
WIAW!
Glad I got to share some of the eats that
never got exposure!
(hehe)
Question FU You...
What's your favorite snack?
Stay Tuned FU More on
*CaNdY FiT*