Another Wednesday....
Another
Edition
of
What I Ate Wednesday
thanks to Jenn at
Peas & Crayons
...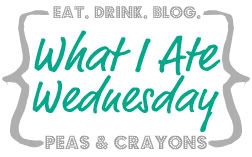 In this edition of WIAW...
I will post a number of eats that were

left out of the spotlight

over the past week or so!
Let's call this recap...
WIAW: Where Art Thou Eats?
Here we go!
Gluten Free Oatmeal Protein Pancakes!
I love these so much!
Chocolate Protein Shake....
Blend:
1 Scoop Protein Powder of Choice
10-12oz Water
1 T Ground Flax Seeds
5 Ice Cubes
A simple bowl of Egg Whites...
Egg White Omelette...
In it...
6 Egg Whites
Allégro Cheese
Dried Chives
1 T Ground Flax Seeds
Spinach
Chili Powder
C
o
lou
r
FUl
Salads....
This is one of my fave meals right now...
Pan Seared Sesame Crusted Tuna Steaks!
Mmmmm.
I love those long, juicy red peppers!
Recipe
And last but not least...
Sushi Dinner!
(I had this the night before my 10K race!)
Nom!
I FUreakin' LOVE sushi!
That's it that's all folks!
Hope you enjoyed
looking at these food pictures!
Now excuse me
while I go eat something ;)
***
One more thing...
I was recently nominated for the
One Lovely Blog Award
by Angela at
Happy Fit Mama
!
(Thank you!!!)
So here's what I gotta to:
Post the award logo and picture on my blog and link back the person who nominated you -

Check.

Tell seven things about yourself -

See below.

Nominate up to 15 additional bloggers who you think deserve the award.

See below.

Post a comment on the blog of each nominee to tell them they have been nominated! -

Almost Check.
Ready? Let's go!

Seven things about myself:
I love *CaNdY*! (I bet you had no idea!)
I drink my coffee black more often than not
I'm an early riser
I'm addicted to sushi
The blonde in my hair is not natural ;)
I don't have any tattoos...and
I don't like walking in heels. I try to avoid it at all cost.
I quick list of blogs I'd like to nominate (in no particular order):
Question FU you...

What was your favorite meal today? What did you have?


Stay Tuned FU More On
*CaNdY FiT*